Roger WWW Garrett has been a part of 98.3 KORA off and on since 1986. Together with Roy Gene Munse, Roger hosted Bryan-College Station's #1 rated ROGER & ROY Morning Show for a number of years.  Since the loss of Roy Gene, Roge has kept your mornings moving withhis own version of the local news and love for playing games with the "Question of the Day" and "Instant Contestant," where inflection is everything! Away from the Microphone, Roger is the proud father of four girls. Sundays you will find Roger preaching as the lay pastor of The First Presbyterian Church in Calvert, Texas.
Hi, I'm Carly, a transplant from Kansas. I've always been a huge talker and love music; sooo radio was pretty well a natural progression for me. I started radio in Hays right out of High School, worked my way up the ladder through college and fell in love with Country Music, especially Red Dirt and Texas Country. From Hays, I moved to a Country station in Manhattan, Kansas (the Little Apple, not the big one). A couple of years later, I was fortunate to find an amazing opportunity with KORA, made the move to the Brazos Valley  and here I am! Live music is my biggest passion and thankfully, this area has plenty of that coming through. When I'm not focusing on music (which is rare) I love reading and being outdoors, especially in the summer. I'm a total lake and camping girl and try to squeeze that in as much as possible. I'm also somewhat sarcastic and have a huge love of coffee, wine, and chocolate.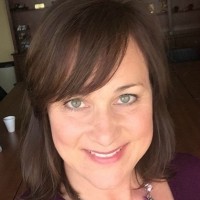 Howdy!  I'm Brandie Alexander – Fightin' Texas Aggie Class of '93. WHOOP!  I was born and bred in Brenham, Texas where I was raised on good old fashioned country music.  From early on my parents took me to the dance halls with them (that was allowed back in the day).  The experience gave me a great appreciation for steel guitar, fiddle and the classics.  It's hard to beat a good two-step by Ray Price or Merle Haggard.  It's because of my deep rooted love for country music that I do what I do.  There's something to be said for waking up each morning and truly enjoying my job.  In fact, when you look at it like that it's not really a job at all.  It's a passion.
My other passion is my family.  I'm blessed to have a wonderful husband, Brian, and three great kiddos – Aiden, Emrie and Evan.  When I'm not at the radio station, I'm hanging out with them.  Our most recent love is spending time at my parents' farm in Deanville riding four-wheelers, shooting guns and fishing. All skills that will come in handy when the zombies attack.
Hey, thanks for caring enough to look me up, that's so nice! I'm happy to be here in Texas, originally from right outside Detroit, Michigan, and made a couple stops in Missouri and Illinois before I made it to the BCS area. I started working in radio on my 18th birthday – New Years Day 2008, so you can do the math if you want to know how old I am. I'm a huge Detroit Lions fan (weird, I know), love a good nap, and am OBSESSED with food. Anyway, feel free to add me on Facebook or follow me on my Twitter @RobKORA and message me, I'm new here so I love meeting people!
My name is Ashlen Ray, Fightin' Texas Aggie Class of 2015. I'm from the small town of Needville, Texas where I grew up smiling, talking non-stop, and baton twirling at Friday night football games. Since then, the combo of music and being in front of crowds stole my heart and led me to become a college feature twirler. After my transfer to Texas A&M University, I majored in agricultural communications and journalism and chased my next dream in radio broadcast. Outside of KORA, my happy place is anywhere with salty air, a porch for sitting, my family or my tail-less cat named after Josh Abbott.

Dr. Ron has worked in every aspect of Texas country music including playing in bands, running sound,  booking and concert promotion and production.  Most might recognize him as DJ, manager, and booking agent from the legendary night club, Texas Hall of Fame for over a decade.  The transition to radio seemed obvious.  In addition to hosting Texas Nation, he also serves as co-host for  Rusty Baker's Texas & Beyond Radio Show.