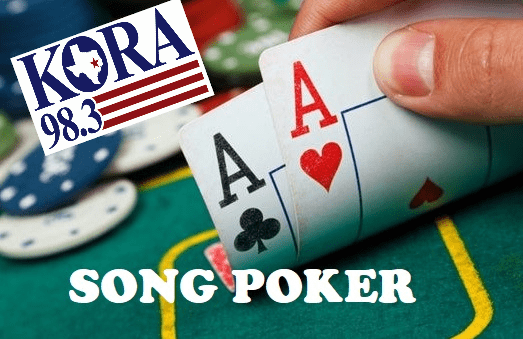 Every Wednesday at 5:30ish, Rob Edwards and Andrew Grimm face off in a heated battle of… SONG POKER!
Every week is a different theme. Each player picks a pair of songs that fit the theme, and YOU pick who has the better "hand" of songs! Vote at the bottom of the page.
This week the theme is "Beer"
Andrew Song 1
Billy Currington – "Pretty Good At Drinkin' Beer"
So hand me one more
That's what I'm here for
I'm built for having a ball
I love the nightlife
I love my Bud Light
I like 'em cold and tall
Andrew Song 2
Toby Keith & Willie Nelson – "Beer For My Horses"
When the gun smoke settles we'll sing a victory tune
We'll all meet back at the local saloon
And we'll raise up our glasses against evil forces singing
Whiskey for my men, beer for my horses
Rob Song 1
Luke Combs – "Beer Never Broke My Heart"
Long-neck ice-cold beer never broke my heart
Like diamond rings and football teams have torn this boy apart
Like a neon dream, it just dawned on me, that bars and this guitar
And long-neck ice-cold beer never broke my heart
Rob Song 2
George Strait – "Cold Beer Conversation"
Cold beer conversations
Just a couple old boys, a little time well wasted
Trying to figure out life
Trying to figure out girls
Trying to find our place in this crazy old world
A little truth, a little frustration
Cold beer conversation
Who had the better pair of "Beer" Songs?
Vote here!
Loading
Who had the better Beer songs?
Thank you for voting.
You have already voted on this poll !
Please select an option !