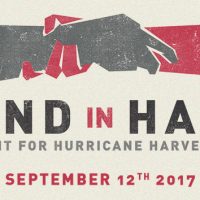 Hand in Hand – 2017(LOS ANGELES) — In the aftermath of the devastation caused by Hurricanes Harvey and Irma, dozens of A-list actors and musicians joined together for Hand in Hand Tuesday night, a nationwide television event spanning 16 networks and multiple radio and internet platforms. The event already raised more than $14.5 million for the victims of Hurricanes Harvey and Irma.
The evening kicked off with Stevie Wonder, seated at a keyboard, saying, "We've come together today to love on the people that have been devastated by the hurricanes. When love goes into action, it preferences no color of skin, no ethnicity. No religious beliefs. No sexual preferences. And no political persuasions. It just loves. As we should begin to love and value our planet and anyone who believes that there is no such thing as global warming must be blind or unintelligent. Lord, please save us all."
Backed by a choir, Wonder sang "Lean On Me."
After a video recap of the devastation of the recent hurricanes, pleas for donations came from celebrities including Leonardo DiCaprio and Jamie Foxx, Oprah and Cher, and Nicole Kidman and Reese Witherspooon.
Usher and Blake Shelton appeared live from the Grand Old Opry in Nashville to duet on "Stand by Me."
Beyoncé, wearing white, appeared on video and gave a moving speech, saying, "During the time where it's impossible to watch the news without seeing violence or racism in this country, just when you think you couldn't possibly get worse, natural disasters take precious life, do massive damage and forever change lives."
She added, "Seeing everyone of different racial, social and religious backgrounds put their own lives at risk to help each other survive restored my faith in humanity."
The Houston native closed, "So, tonight, we come together in a collective effort to raise our voices. To help our communities. To lift our spirits and heal. Thank you."
While celebrities Jon Stewart, Bruce Willis, Daniel Craig and others were manning the phones, Houston Rockets point guard Chris Paul pledged $20,000 of his own money to hurricane relief and announced that the NBA Players Association will match donations up to $20,000 from every NBA player in the league.
Celebrities continued to appear, including Tom Hanks and Rita Wilson; Matt Lauer; Michael Strahan; Ryan Seacrest; Justin Timberlake and George Clooney; and Julia Roberts.
There were additional musical performances from Dave Matthews in New York and Lin-Manuel Miranda in Los Angeles, while live from Nashville, Brad Paisley, Demi Lovato, Darius Rucker and Cece Winans performed The Beatles classic "A Little Help from My Friends."
Stephen Colbert announced that Apple is donating $5 million, joking, "Five million. Which is also the price of the new iPhone."
Celebrities continued to appeal for help, including Jon Stewart and Robert DeNiro; Jimmy Fallon; Tyler Perry and Sofia Vergara; and Will Smith and Taraji P. Henson, who each appeared via video.
Matthew McConaughey appeared live from San Antonio.
In a plea for donations, he said, "Now, this is what we can give people with our donations tonight. We can't bring back what they lost, but we can help them know where to take the next step and provide some solid footing for them to place their next foot. A path to stability. To a place where they can rebuild. This is what they need and this is what we can give them."
He then introduced country legend George Strait as well as Lyle Lovett, Robert Earl Keen, Chris Stapleton, Miranda Lambert, who joined to sing "Texas" and "I Believe."
Billy Crystal closed the telethon thanking everyone at all the call centers, and reminding people that the phone lines and donation centers will be open all night. He concluded, "This is what America is really all about."
People can continue to donate at 1-800-258-6000, texting GIVE to 80077 to give $25, or going to the website, HANDINHAND2017.com.
Copyright © 2017, ABC Radio. All rights reserved.