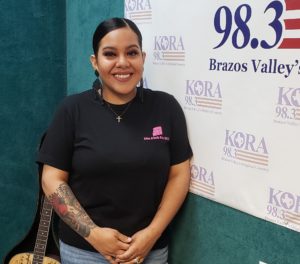 The Roger Morning Show visited with Samantha Moore, a Bryan native who created 'The Pink Box BCS'. Her organization places pink boxes that serve as 'Blessing Boxes' throughout area neighborhoods to help those in need. Being a busy mom, Samantha knows firsthand how challenging it can be to provide for a family, especially with the rising cost of food and necessities, so she wanted to do something for her community to make a positive difference.
Food insecurity affects nearly 4 million Texans across the state. In honor of  Women's History Month, Samantha says she's proud to be one of the women who is making a difference in her local community. The quote on The Pink Box BCS Facebook page states: "TAKE what you need, LEAVE what you can, LITTLE becomes much, in the MASTERS HAND."
Starting a new nonprofit has its challenges, and it's important to share information about the organization to everyone who needs help, wants to donate, or would like to volunteer and get involved. If you're in need of essentials in College Station, a Pink Blessing Box is directly across from 1638 Deer Park Drive. In Bryan, you can find one at 2105 Hidden Hollow Circle. Visit Pink Box BCS on Facebook for details about the next donation pickup and location of Blessing Boxes in the Brazos Valley.